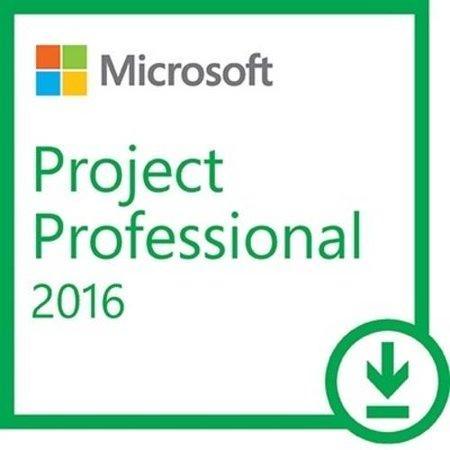 Microsoft Project Professional 2016 Retail Download
---
Microsoft Project Professional 2016 Electronic Delivery
This product is electronically distributed by means of download and product activation key.

Your download link and product/Activation key for this product will arrive to your email address after your order is processed, whether it is during business hours, evenings, Holidays or on the weekends.
Microsoft Project Professional 2016 Retail
Easily collaborate with others to quickly start and deliver winning projects
---
Features
Stay organized
Easily plan and manage your projects
Tap into the latest Project templates on Office.com from within Project to help you get started quickly. Project also helps keep you organized by providing quick access to recent files and locations from the Backstage.
Be efficient and prioritize
Stay in control of your project plans no matter the size. Rich, out-of-the-box reporting tools within a familiar Office-like experience help you quickly and easily measure progress and resource allocation. With Task Path highlighting in the Gantt Chart, you always know how your tasks come together and can identify which tasks are the most critical to your project's success.
Manage anywhere
Improved integration between Project and Office 365 (and SharePoint) enables you to share the latest status, conversations, and Project Timeline through a dedicated project site. Create the project site with a few simple clicks to quickly share project details with your team, keeping everyone connected and organized.
Deliver projects successfully
Give effective presentations
The Timeline view helps you visualize your project to deliver stellar presentations to your team, executives, and stakeholders. And because Project lets you design and print your reports, you can easily share insights that help you better communicate progress and achieve results.
Anticipate change
Enhanced tools like Team Planner help you see and amend potential problems before they can impact your schedule. With Project, you can set tasks to "Inactive" and quickly analyze "what if" scenarios without recreating your entire project plan.
Explore the Office Store
The new Office Store provides Apps for Office that extend the functionality of Project to solve unique problems to meet your needs and the needs of your business.
Improve everyday collaboration
Work seamlessly across tools
Project works well with Office, Office 365, SharePoint, and Lync®, to give you a complete collaborative project management system. You can easily copy project information to Office applications such as PowerPoint or email and save important plans and details to Office 365 or SharePoint. Improved task list synchronization between Project and Office 365 or SharePoint helps you quickly deliver project information to your team and easily receive their changes from virtually anywhere.
Communicate in real time
Project integration with Office 365 enables you to send instant messages and kick off real-time conversations right from your project with Lync Online.
Discover and share information
Office 365 and SharePoint social capabilities work with your project site to facilitate discussions and information sharing so you can get projects and everyday work done. In addition, SharePoint search functionality makes it easy to find the right information to effectively complete everyday work and save you time.
---
System Requirements
Component
Minimum Requirement
Computer and Processor
1 Ghz or greater x86/x64 Processor with SSE2 instruction set
Memory
1 GB RAM (32 Bit) / 2 GB RAM (64 Bit)
Hard disk
3.0 GB available
Operating System

Windows 7 or later, Windows Server 2008 R2, or Windows Server 2012

Graphics

1280 x 800 resolution Graphics Graphics hardware acceleration requires a DirectX 10 graphics card. Multi-touch A touch-enabled device is required to use any multi-touch functionality. However, all features and functionality are always available by using a keyboard, mouse, or other standard or accessible input device. Note that new touch features are optimized for use with Windows 8 or later.

Browser
Internet Explorer 8, 9, 10, Firefox 10.x+, Safari 5 (Mac), Chrome 17.x.
Other
Touch features require a touch enabled Windows 7 or Windows 8 PC
Certain functionality may require internet connectivity