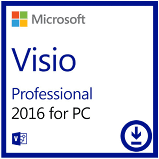 Microsoft Visio Professional 2016 Retail Download
---

Microsoft Visio Professional 2016 Electronic Delivery
This product is electronically distributed by means of download and product activation key.

Your download link and product/Activation key for this product will arrive to your email address after your order is processed, whether it is during business hours, evenings, Holidays or on the weekends.
Microsoft Visio Professional 2016 Retail
 Microsoft Visio Professional 2016 makes it easier than ever for individuals and teams to create and share professional, versatile diagrams that simplify complex information. It includes all of the functionality of Visio Standard 2016 as well as updated shapes, templates, and styles; enhanced support for team collaboration, including the ability for several people to work on a single diagram at the same time; and the ability to link diagrams to data. Visio Professional 2016 also adds additional stencils for business and engineering diagrams; process diagrams (including Business Process Model and Notation [BPMN] 2.0); maps and floor plans; network diagrams; and software and database diagrams.
Over 60 built-in templates, many with updated shapes
Streamline teamwork and reduce the risk of errors by allowing two or more people to work on the same diagram in a single file at the same time
Link to data from several popular structured data sources, including Microsoft Excel, SQL Server, SQL Azure, and SharePoint Lists and Business Connectivity Services
Get visual indicators of what shapes others are working on and easily sync diagrams when saving
Reveal patterns and meaning in your data with data graphics, such as vibrant icons, symbols, colors, and bar graphs
Share and comment on diagrams—both static and data linked—through a web browser
Computer Requirements:

Computer and processor 500 MHz or higher
Memory 256 MB (512 MB recommended)
Hard disk 2 GB
Drive DVD-ROM
Display 1024x768 or higher resolution monitor
Operating system Windows XP with SP 3 (32-bit), Windows Vista with SP1, Windows Server 2003 R2 with MSXML 6.0, Windows Server 2008, Windows 7 or later operating systems. Windows 10
Download the full program, which will be activated as a fully licensed version once you input the serial number we provide. Once your order is processed during regular business hours, you will be emailed a product serial number.